Das Projekt:
Achtung Kunst! und Kunst! sind Projekte des FabLab Neckar-Alb e.V. zur Verschmelzung von Technologie und Kunst. Renommierte Künstler unterschiedlicher Genres werden eingeladen ihre Arbeit vorzustellen, ihre Technik zu demonstrieren und später einen Auftritt zu absolvieren.
Die letzte Achtung Kunst! mit Kode9 war am 29.4.2017. Impressionen findet ihr hier.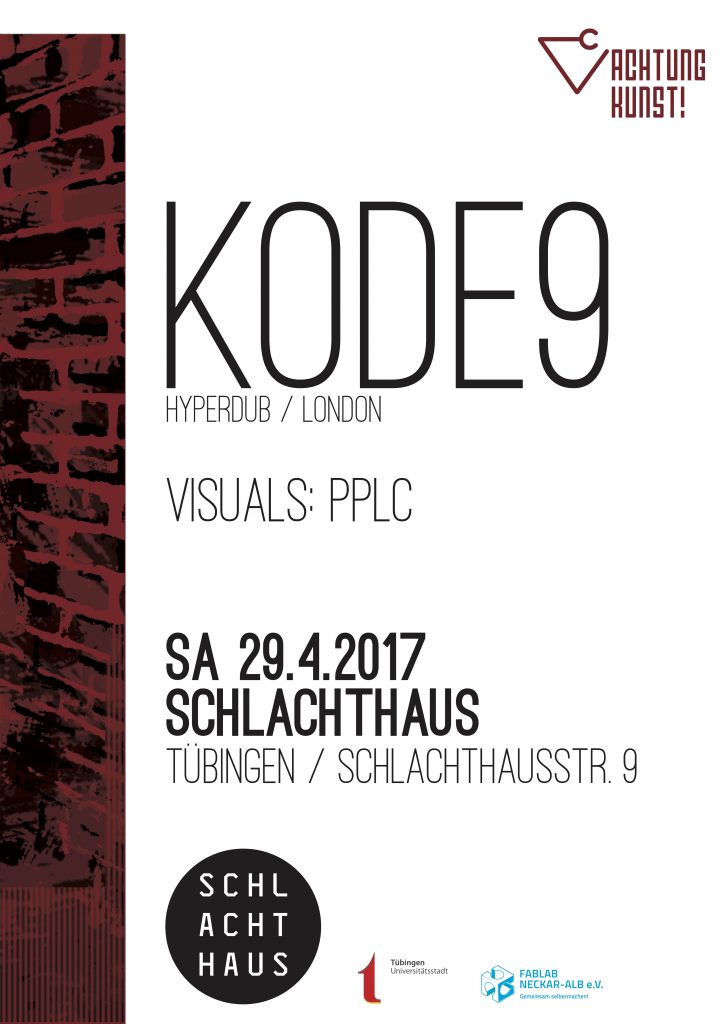 Nächster Event:
Kunst! mit Les Six und Muted, anschließend DeepBassMusic mit Kiat am 13.5.2017
Les Six (live) Urban Field Recording, Ambient, Drone, Soundscapes, Noise
Les Six zeichnen mit funkelnden Klangfarben klirrende Geräuschkulissen, die sie mit brummendem Brausen erbeben lassen. Visuals von PPLC.

Muted is an Icelandic experimental electronic musician based in Tübingen, Germany.
Coming from the isolated eastern region of Iceland, the proximity with nature has a big role in creating Muted's sound. Detailed beats consisting of samples and field recordings combined with deep ethereal synthesizer atmospheres creating top level downtempo/trip-hop with a big influence from jazz, hip-hop and electronic music.
www.soundcloud.com/muted

KIAT (Syndicate/Defrostatica, Singapur)
With a belief that creativity knows no format and all creations should have emotions, Kiat has built an extensive portfolio of work in visual art, music and art direction. His many titles include DJ, producer, visual artist, award-winning art director and co-founder of Syndicate.
https://soundcloud.com/kiat

KIAT comes with Cherry Chan for visual support
An alumnus of the prestigious Red Bull Music Academy 2010, Cherry has DJed alongside electronica artists such as Flying Lotus, Four Tet, Moderat, Hudson Mohawke and Tokimonsta; from London to Australasia. Singapore music has seen a positive impact from Cherry's tireless involvement in various communities, Syndicate being a prime example. The collective was co-founded by Cherry with the intention of deconstructing current norms of dance music in Singapore, and to synergise visual ideas with live performances, creating audio-visual installations in a myriad of spaces and contexts that provide platforms of expression for artists around the region.

Local Support & PPLC
Vorverkauf der Tickets findet sich am Ende der Seite!
Vergangene Events: