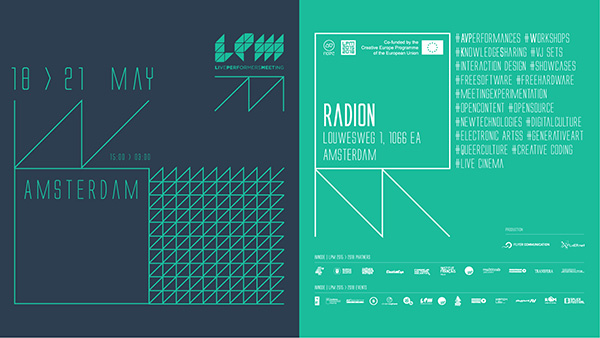 Here we go!
The eighteenth edition of LPM Live Performers Meeting will be from 18 to 21 May, 2017 in Amsterdam, at Radion.
LPM 2017 Amsterdam is now on-line and starting from today
THE CALL FOR WORKS IS OPEN!
Send us your best project or performance and join the most important event on Audio Visuals Performing Arts!
We are looking for:
AV Performances
VJ Sets
Live Mapping Performances
Interactive Installations
Project showcase
Workshops
Lectures
The registration form is only available on-line and
the subscriptions will be accepted until April 10, 2017.
<click>
If you wish to participate to the Meeting, but you don't want to perform, subscribe anyway as you will have an incredible opportunity to meet hundreds of live video artists, experts and practitioners, so to further your knowledge of the hottest topics related to live video performance!
The aim of LPM is to promote and diffuse the free circulation of ideas, knowledge, techniques and languages related to the Audio Visuals Performing Arts, which will be the main focus of the Meeting. 4 days in which there will be a spectacular, innovative and engaging program, that you too can help make unique.
Languages, techniques, cultural derives, innovative technologies: these are the themes that we want to discuss during our seminars and workshops. Send us your proposal for a talk, a presentation or a workshop and help us spreading knowledge
LPM – Live Performers Meeting is part of the cooperation project AVNode | LPM 2015> 2018 co-funded by the Creative Europe culture programme of the European Union, involving 14 events a year for three years, carried out by 13 partners from 12 countries: Austria, Belgium, Czech Czech, Germany, Greece, Hungary, Italy, Netherlands, Poland, Spain, Turkey and United Kingdom.
LPM is produced and organized by Flyer Communication, Linux Club, FLxER.net
See you in Amsterdam!